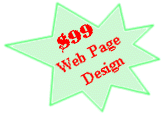 The Budget Plan
Cost : $99.00

We are devoted to get dentists on the web quickly and easily. This plan is the perfect solution, you don't need to know anything about the Internet or computers. Just tell us about yourself and your practice and we will take care of the rest.

This is what you get with the Budget Plan:

Custom Designed Web Site (Page) by the DentistZone.com
1 or 2 Pages ( 8.5 x 11 inches ) with text/digital graphics
1 digital Logo
2 digital Graphics of your choice
Free buttons, bullets, and icons
This is a one time fee, and there are no hidden costs
Hosting of your page at our site FREE of charge.




[ Home ]
---
Copyright &copy 1996-2000 dZone!tm - Dentist Zone - All rights reserved .
tmaster@dentistzone.com